Berikut Ini Tutorial Settingan Email di Mail X

1. Buka menu Mail

2. Dari 
Add Account,
 pilih 
Add Othet Mail Account ...
 dan klik 
Continue.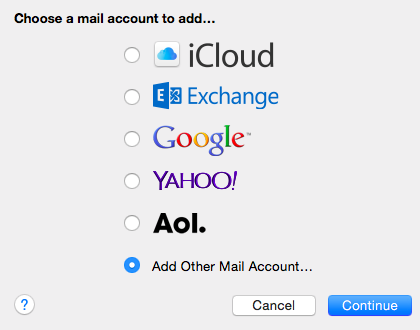 3. 

Masukkan informasi akun email Anda.
Nama Lengkap:

 Nama Anda seperti yang Anda inginkan untuk muncul.

Alamat Email:

 alamat email lengkap Anda.

Password:

 Kata sandi untuk akun email Anda.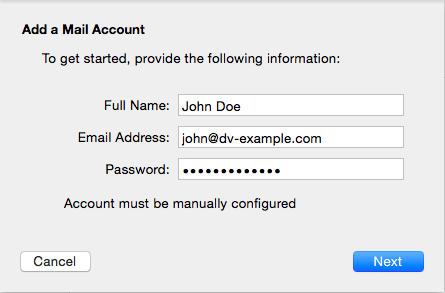 Klik Tombol Next

4.  Mail X akan mencoba untuk menghubungi mail server. Pencarian default menggunakan "autodiscover.domainanda.com" - kecuali jika Anda memiliki subdomain ini sudah dibuat dan Sertifikat SSL terpasang, ini tidak akan bekerja. Namun, jangan khawatir! Ini normal untuk hal ini terjadi, karena server Techscape tidak memiliki pengaturan autodiscover diaktifkan secara default. Ketika pengaturan autodiscover telah berhasil, sebuah "Account harus dikonfigurasi secara manual" pesan akan muncul. "Account Must Be Manuali Configure" Klik tombol tersebut

Berikutnya tombol untuk menyelesaikan pengaturan secara manual.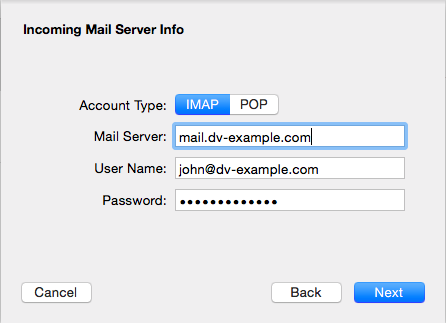 5. Klik Next 
untuk melanjutkan. 
Anda akan dibawa ke layar kedua untuk mengkonfirmasi rincian tambahan.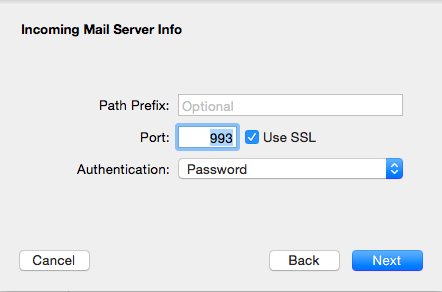 Path Prefix: Biarkan default.
Port: silahkan pilih port yang sesuai dengan type email anda (POP3 atau IMAP)
IMAP: 143, atau 993 jika Anda menggunakan SSL.
POP: 110, atau 995 jika Anda menggunakan SSL.
Authentication: pilih 'Password'


klik next,

6. Berikutnya, kita akan mengkonfigurasi Mail Server Outgoing. 



Masuk ke settingan Outgoing Mail server info, smtp server: isi nama domain misal abc.com
username: isi alamat email lengkap misal abc@abc.com passwd, isi passwd email ybs
Klik menu "Create"


Account email Anda telah dibuat, tetapi Anda harus memastikan beberapa perubahan sebelum Anda memulai. Pilih "Preferences" dari menu Mail, dan klik pada "Account" tab dari jendela Preferences.

pilih account New Account di sebelah kiri kolom
SMTP server list. Click the Advanced tab and verify the following settings:
Automatically detect and maintain account settings" tidak boleh diceklist!
Port silahkan isi 587 atau 26 atau 25(jika isp anda tidak memblok port 25) pilih salah satu
pada kolom otentifikasi, pilih password, kolom username dan passwd dibawahnya pastikan diisi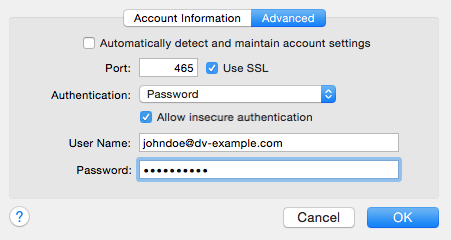 Selesai, silahkan dicoba cek email.